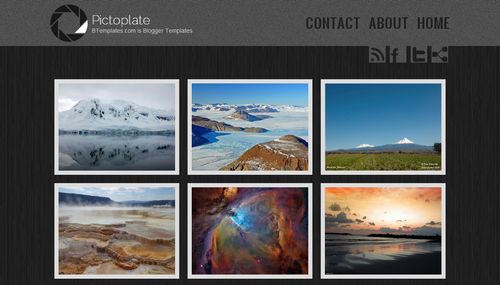 Template Futures
Picfotoplate is a free Blogger template that is designed by 54Blogger. It is an excellent layout perfect for portfolio and photography sites. According to the author, this template is specifically designed for an online photography site. It has a dark theme with black, grey as its main color and white for the site name's fonts.
Aside from photography, you can use it on other types of site that include travel, gallery, food, music, personal, modern, and more. It's a clean layout that comes with a minimal design. Simple yet elegant.
The template, despite its dark theme, has a very appealing look and an eye-catcher towards the visitors of your site. Full images can be seen by clicking the thumbnail viewer box.
Picfotoplate's features a built-in support for social bookmarking so it would be easier for the users to share your posts and site to their circle of friends, cross browser ready, it's compatible with all the leading browsers available like Chrome, Safari, Firefox, Opera and IE, has 3 columns, has a thumbnail view, gallery-styled template, an exclusive design for Blogger, footer columns, has modern layout design, has social media bookmarking icons, has a grid view layout, footer widgets.
In this template, when you upload your photos, the image inside the post will wither be widen or shrunk to 940px. It is the size for the image to get the best resolution. The author has also set a box size to 4:3 ratio for the photos.
Comments will be closed off on this post 365 days (1 year) after it is published. Apologies to this, but it's all about avoiding a growing comment spam problem. See our most recent posts where you can comment here