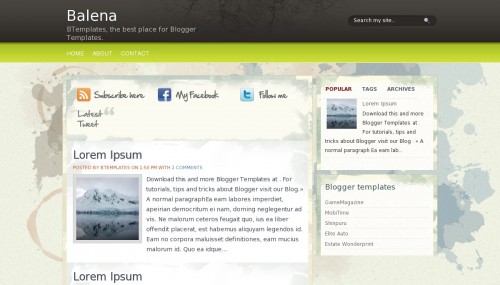 Template Futures
Balena template is a free Blogger template that is designed by Web2Feel and authored by NBThemes. It is one of the best responsive templates around which is adapted from WordPress, with 2 columns, a right sidebar, 4-column footer, and a beautiful grungy paint splattered background. It is also bookmark ready, with social bookmarking icons for easy sharing on different social mediate networks that include Facebook, Twitter and RSS feed link, plus a top navigation bar, and a clean, young, and funky layout that comes in green, black, and white colors.
It is a great template to use for those who have personal blog sites especially with themes like art, or education and diary-type blogs. Other themes are also applicable with this template – you may use this for sports, news updates, lifestyle, food, for podcast and more.
Balena template is another Blogger template that mimics a WordPress-styled layout, so for those users who are trying out Blogger/Blogspot for the first time or have just switched to it and don't know well about it, this is good to use as you already are familiar with how a WordPress template goes.
If you're interested to use this in your Blogger blog, you may download the source file here.
Comments will be closed off on this post 365 days (1 year) after it is published. Apologies to this, but it's all about avoiding a growing comment spam problem. See our most recent posts where you can comment here